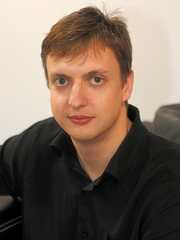 Andrew Christopher Gower was born on the 2nd December 1978. He has been programming computers games in one form or another since he was 7. Andrew was the founder of Jagex along with his brother Paul. He no longer holds any Jagex shares. He first set up the site Devious and Cunning Games in 1995. He created five games on this before deleting it and setting up Jagex. He then sold some games to Games Domain which was also swiftly deleted when he sold it onto Yahoo. He then continued making minigames on the Jagex website before setting up RuneScape (now RuneScape Classic) and then FunOrb. He is still working as Lead Developer.[1] He is involved in most of Jagex projects. His Jagex account name is Andrew.
More Info
Edit
For more info visit Wikipedia page here.
References
Edit

This section or article is incomplete and could do with improvement.
You can edit this page to improve it.