Geoblox
Genre
Arcade
Release
February 27, 2008
Multi-player
No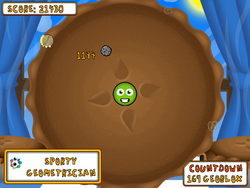 Geoblox is an organizational puzzle game that was released on February 27, 2008 with FunOrb. It is praised for having some of the catchiest music of the games on FunOrb.
Description
Edit
FunOrb description read:
Geoblox is a game of skill and fast reactions. Rotate the playing field to make geoblox connect. When three geoblox of the same colour or shape connect, they will disappear, giving you points. Your job is to keep the playing field as clear of geoblox as possible and make sure there is always enough room for them to fall. The game is over when the geoblox reach the edge of the play area.

The game features unique geoblox with special attributes, lots of bonuses, and seven distinct worlds that will keep you entertained for hours!
Geoblox is essentially a match and eliminate game which could be compared to Columns. Pieces of different colours and shapes will fall towards the "avatar" at the center of the screen. Players must rotate around to select what part of the avatar the piece will stick to. (Pressing R will reverse direction of rotation) The player must then connect 2 other pieces of either the same shape or colour to the attached piece to eliminate it and earn points. If players stack up too many pieces the avatar will overload and the game will end. If a player successfully survives the level timer they will advance to the next level. Before advancing an event called the Bubble Bonus will occur. This will award points depending on how many much space there is between the edge of the current level-disk and the outermost piece.
Geoblox consists of 7 levels, each with a time that increases per round. As the player advances, the pieces fall faster and different colours and shapes are added. Near the end of the germ level, Silver Star pieces are introduced. When these stars strike the character it eliminated all pieces directly stuck to the character, though pieces stuck to the ones connected to the character will not be eliminated. Also, In the space level multicoloured pieces fall; these pieces will take the colour of whatever piece they strike and are great for eliminating pieces that are overrunning the character. Also, Black Orb pieces are introduced, and cannot be eliminated with any pieces other than Silver Stars striking the Geoblox. Also "bubble" pieces will fall. These bubbles have a fixed colour but their shape will automatically match that of the piece it hits, including "silver star" and "black orb" pieces. Most players would agree that as pieces build up on you the more difficult it is to recover. The recommended strategy is to eliminate pieces as quickly as possible.
More Info
Edit
For more information visit Geoblox aticle on FunOrb Wikia here.

This page is just a summary; for more in depth detail please visit the FunOrb wiki.