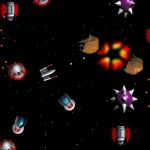 Meteoroids was a game on the Jagex site. It was a spaceship based shooting game. It featured on the site since the start the Jagex site right through to right before they deleted all of their games.
Description
Edit
Its description read:
Meteoroids
Blast the rocks into tiny pieces and destroy the aliens! Collect up to 7 ship power-ups. Features cool explosions, background music and sound effects.
Instructions
Edit
The instructions for Meteroids read:
Blast the rocks into tiny little pieces in this great aracde game.
Controls
Use the spacebar to fire! and the arrow keys to move.
Alternatively use the Z+X keys to rotate the ship, and the K+M keys to move backwards and forwards.