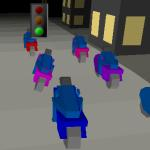 Motor Trail was a motorbike game that featured on the Jagex site during and around 2000. It was paired with another game called Speed Trial. It also featured on Games Domain. It had 4 tracks (see videos below).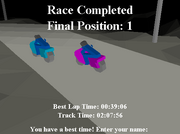 Description
Edit
Its description read:
Motor Trial
Race your motorbike in a scrapyard, swamp, city, or over a mountain in this great 3D racing game! Features 7 computer controlled opponents, background music, sound effects, hiscore table, etc...
Instructions
Edit
Its instructions read:
Use arrow keys: Left & right steer your bike, up accelerates, and down brakes or reverses'
Try to beat the other bikes as you race around the track! Select a detail level to begin the game. Then click on the arrows to select a track to race on. Finally click the 'start' button to begin a race.
Gameplay footage
Edit