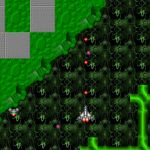 Outpost - The Outpost was the second part to Outpost (the first being Outpost - The Caverns) on the Games Domain website. It had three levels based on the outpost.
Description
Edit
The description for it read:
Once you reach the outpost you will have to fight hoards of enemy ships, and defences. Destroy as many enemies as possible. Then try to escape and return home.
Each part only had three levels so this game only consisted of three levels and Outpost and Outpost 31 should have had six levels each. However on the Jagex site said that Outpost 31 only had three levels.

This section or article is incomplete and could do with improvement.
You can edit this page to improve it.