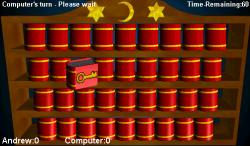 Pairs was a basic two player game of matching cards. It is possible that 36 Card Trick is a remake of this however this is unconfirmed.
Description
Edit
Its description read:
Pairs
Test your memory to the limits with the pairs game. Take it in turns to reveal the books, and then try to match them up! Part of the Castle-GamesDomain multiplayer games suite
Instructions
Edit
The instructions read:
Objective of Pairs
The objective of this game is to match up the books in the bookcase, and to find more matching books than your opponent!
How to play
On your turn, click on a book in the bookcase to reveal it. Try to remember where it is, and then try to locate the book with the same cover. At first you'll have to guess, but later you'll learn where the books are. If you find 2 books the same, they are removed. You are also rewarded 1 point and another go. The game ends when all of the books have been removed.