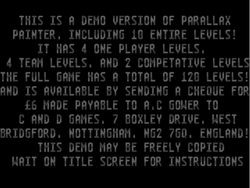 The Parallax Painter (Demo) was the demo of Parallax Painter and it was a lot smaller. The full version had 120 levels whereas the demo had 10 (4 one player levels, 4 team levels and 2 competitive levels). Interestingly they also blocked certain letters from being entered in the level code box so you could not use level codes (E.G. A was blocked so you could not use the level password CAN). The full version was available for £6 to buy. The demo was allowed to be copied freely and technically still is!
Gameplay footage
Edit

This section or article is incomplete and could do with improvement.
You can edit this page to improve it.