Speed Trial
Genre
Racer
Release
Unknown
Multi-player
No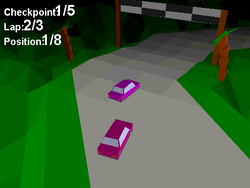 Speed Trial was a game on the Jagex website. It was on the site in and around 2000. It had 4 tracks. Gameplay from all of them can be seen on V3I0's Youtube channel or on videos below.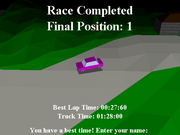 Desciption
Edit
Its description at the time read:
Speed Trial

Race your car around 4 different stunning landscapes, (desert, plains, snowy or wastelands) racing against 7 computer-controlled cars. Features 2 different background tunes, and an accurate physics engine, so your car skids around corners and bounces over hills.
Instructions
Edit
Its Instructions read:
Use arrow keys: Left & right steer you car, up accelerates, and down brakes or reverses (Note: That missing full stop is not an error it was in the description!)

Try to beat the other cars as you race around the track! Select a detail level to begin the game. Then click on the arrows to select a track to race on. Finally click the 'start' button to begin a race.
Gameplay footage
Edit