Vertigo 2
Genre
Platform
Release
November 20, 2008
Multi-player
Yes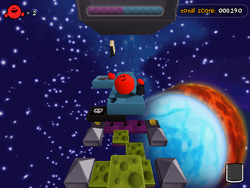 Vertigo 2 features both single and multiplayer and was released on FunOrb 20th November 2008. It is a remake of Vertigo which is a remake of Parallax Painter.
Description
Edit
FunOrb description read:
The original Jagex 3D platformer returns, featuring huge levels to make your brain boil, deadly traps, portals and plenty of paint. Vertigo 2 brings you the complete original game, improved graphics and two all-new modes.

For all of you who don't remember the first game: Vertigo 2 is full of pure platforming action. Can you complete all 50 levels? Can you bear to look down? Will you fall to your doooooom? Try it now and find out.

Not only have we brought you the complete single-player experience from the original, we've also brought you the complete multiplayer experience, but this time online! Team up to play through 30 co-op levels with a friend or compete in the frantic Paint-off mode.

On top of that, Vertigo 2 now sports a brand new Time Trial mode across all 50 single-player levels. Log your fastest time for each level and compete with your friends to set the fastest times.
Gameplay
Edit
The aim of the game is to paint all of the blue tiles purple by jumping up and down to reach each "layer" of tiles. Each level consists of a variety of obstacles to make the game more challenging as well as moving platforms, teleporters and other collectables that may be useful.
More Info
Edit
For more information visit Vertigo 2 aticle on FunOrb Wikia here.

This page is just a summary; for more in depth detail please visit the FunOrb wiki.